This Is the Super-Buzzy Butt Workout Emmy Rossum Did During Her Downtime at Sundance
January 31, 2018
You already know Emmy Rossum as the leading lady of the TV show Shameless, but even away from Showtime's cameras, Rossum is redefining what it means to be a badass. With 2018 barely underway, the actress has already led quite the sweaty year of shadow boxing at West Hollywood's AEROSPACE high performance center. (FYI: Most of her sessions stretch two hours or longer.)
But last weekend, while promoting her new movie, A Futile and Stupid Gesture, at the Sundance Film Festival, Rossum donned her camo twin set and got her sweat on in her hotel room. So, what was her on-demand workout of choice?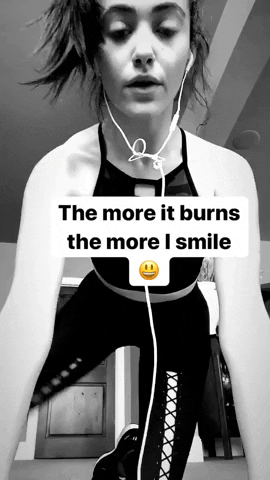 Skipping out on the resort's gym, Rossum opted to stay in her suite and queue up a leg series from Lauren Kleban's LEKFit: a full-length, dance-inspired workout that you can do from pretty much anywhere. To get the full download on this move (which is humorously called the "fire hydrant"), I hopped on the phone with Kleban.
"The move itself is firing up her outer thighs, her obliques, and her lower abs," she explains. To get ready, come on to all fours and make sure your weight is evenly distributed. Then, relax your shoulders, soften your elbows, and tuck your chin. (So don't beam at your phone like Rossum, unless you want to take a quick selfie.)
"The more it burns, the more I smile."
Next, engage your abs and scoop one leg up until it's parallel to the ground. Bring it back to center. "Sometimes there's a tendency to kind of grip in the front whenever we're lifting our leg to the side, and that can cause pain in our psoas [muscle]," warns Kleban, referring to deep core muscle that connects your lower abs to your upper leg. To combat this faux pas, she advises keeping your thighs slightly behind your hips throughout the motion, and (of course), double checking that your abs are locked in.
Finally: You'll need a little inspo from Rossum to keep you in the game. Her advice for when the sweating gets tough? "The more it burns, the more I smile."
ICYMI: Rossum is also vegan breakfast and R&R #goals.
SaveSaveSaveSaveSaveSaveSaveSaveSaveSaveSaveSave
SaveSave
SaveSave
SaveSave
SaveSave
SaveSave